Dynamic Soft Tissue Mobilization (MT7)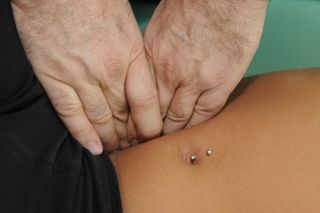 MT7 Objectives
Recognize the indications and contraindications for the use of soft tissue mobilization procedures
Understand the anatomy and neurophysiology of the connective tissue and its affect on muscle function
Integrate mechanical, neurological, and physiological knowledge to optimize treatment outcomes
Provide a rationale as to which soft tissue technique is best to improve vascular flow, inhibit pain, or normalize movement
Apply appropriate body mechanics and patient considerations for best delivery of soft tissue mobilization
Demonstrate a variety of specific and general soft tissue techniques to the extremities and the spine
Evaluate the difference between soft tissue and joint restriction
Analyze the current literature on soft tissue mobilization
Course Content
Learn to perform soft tissue mobilization techniques that improve mobility, inhibit pain and normalize movement. Case study practice sessions emphasize time management, technique choice, and therapist/patient position for best results. This must take course will prepare you to integrate these concepts into your practice Monday!
Thoracic – This is a key region for postural correction and breathing difficulties
Lumbar – 80% of people experience disabling lumbar pain – techniques in this course address the segmental and global muscles for optimal stability and mobility
Hip – One of the key joints in the "unhappy triad" (Lumbar, SI, Hip) that is often taken for granted. Techniques in this course address flexibility and dynamic stability of the lower quarter.
Knee – Techniques in this course address many knee issues such as extension lag, patellofemoral syndrome, and IT band syndromes.
Ankle/Foot – This course addresses plantar fasciitis and other soft tissue related biomechanical dysfunctions in the foot and ankle.
Cervical Spine – Headaches are an epidemic. This course teaches specific techniques that decrease cervical muscle guarding and influence most headache symptoms.
Shoulder – Impingement, thoracic outlet, and scapular dyskinesia are a few issues addressed in this course.
Elbow – Learn techniques to specifically address the scar tissue causing Epicondylar symptoms
Wrist Hand – Learn to address intrinsic muscle tone, tendinous scarring, and carpal tunnel